"Get to Know Each Other!"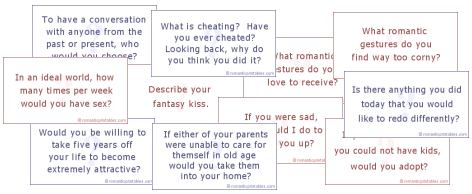 Print Now
View Samples
Our
Printable Question Game
for couples is a fun and casual way to get to know each other. Discover exactly how your partner wants to be romanced, learn about his ideal lifestyle, future dreams and opinions about things like finances, having children and marriage.
When you're ready to turn up the heat, use the Printable Question Game to find out what your sweetheart craves in bed!
All the question game cards are printable, so you can play immediately after purchase. Print the entire Question Game right now for only $14.95 $7.95 (USD). You get 70 business-card sized question cards.
To play, place the Question Game Cards in a bowl or gift bag and take turns picking one and asking each other the question on your card. Check out the question game samples to see for yourself…this game is far from boring!
Instant Access after Purchase! No Shipping!
Print Now – $7.95
Secure online payments provided by 2Checkout
Refund Policy

(Not happy? You get your money back.)